Navigating New Territory
A decision to move your SAP landscape to the cloud brings you one step closer to taking advantage of the agility, flexibility, and reliability that the cloud has to offer. But how to actually make the transition to the cloud is unfamiliar territory. You're familiar with AWS, and perhaps you've even identified it as your hyperscaler of choice, but what's the next step?
"Organizations want to adopt the cloud and consume what the cloud has to offer, but moving to and managing the cloud is new territory for them, hence their hesitation," observes Ricardo Casanovas, VP, SAP Products and Innovation at Syntax. Adding to the challenge, in-house talent shortages are slowing digital transformation timelines. In a new report, Innovation Reality Check: A crisis of overconfidence in IT, 45% of respondents indicated that they don't have the talent to migrate to a public cloud.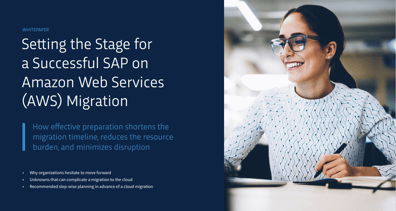 In this whitepaper, you will learn:
Why organizations hesitate to move forward
Unknowns that can complicate a migration to the cloud
Recommended step-wise planning in advance of a cloud migration