June 11-14, 2023
Elevating Insights for the Oracle Community
Join Syntax at Ascend 2023
Join Syntax and the OATUG Community at the Caribe Royale Resort in Orlando, FL where Oracle users of all levels can realize strategic advantages by modernizing their Oracle ERP investments to operate more efficiently and cost-effectively.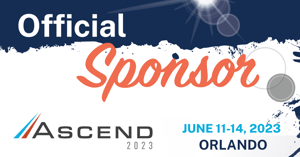 Ascend 2023 will deliver considerable benefit for a broad selection of job roles and technology needs including those interested in Oracle E-Business Suite, Peoplesoft HCM, Oracle Cloud Applications, Oracle Database, or Taleo.

As a Vibranium sponsor, Syntax is excited to support the Oracle and E-Business Suite communities to help make Ascend 2023 a reality. Visit us at booth 206 to ask questions and meet our Oracle and E-Business Suite experts.
Syntax Has Been Selected to Deliver These Education Sessions at Ascend 2023
Monday, June 12

Utilizing and Expanding Enterprise Command Centers (ECC) in Oracle E-Business Suite
2:30 PM – 3:30 PM
60 Minutes
Mike Miller- Syntax
Tuesday, June 13

Assessing and Managing Risk in an Artificial Intelligence of Things (AIoT) Initiative
11:15 AM – 12:15 AM
60 Minutes
Mike Rulf - Syntax

Migrating EBS to Oracle Cloud Infrastructure: Lessons from the Trenches
3:00 PM - 4:00 PM
60 Minutes
Marc Caruso - Syntax
How Can Syntax Help?
Since 1972, Syntax has been providing comprehensive technology solutions to businesses of all sizes with thousands of customers trusting Syntax with their IT services and ERP needs. Today, Syntax is a leading Managed Cloud Provider for Mission-Critical Enterprise Applications. Syntax has undisputed strength to implement and manage multi-ERP deployments (SAP and Oracle) in a secure and resilient private, public, hybrid, or multi-cloud environment. Featuring strong technical and functional consulting services, and world-class monitoring and automation, Syntax serves a diverse range of corporations, industries, and markets. With offices worldwide and over 1,000 customers across all business segments, Syntax has a deep and diversified customer base with longstanding relationships.
Implementations and Upgrades
Functional and Technical Consulting
Managed Cloud Solutions
Continuous Innovation Adoption
Application and CNC Managed Services
Managed Security Services
Disaster Recovery/High Availability
Business Analytics/Business Intelligence